Rice and Curry - boiled rice with curried vegetable, fish and/or meat laced with Sri Lankan spices is the typical Sri Lankan main meal, a gourmet's delight. It is served for both lunch and dinner and some do have it for breakfast too. Curries are usually made hot but can be mellowed to suit the pallet. Rice and Curry is served for lunch and dinner. Boiled or steamed rice with a variety of curries, salads, sambols, pappadam and chutney form the meal. Spices are added to make the dishes more Delectable.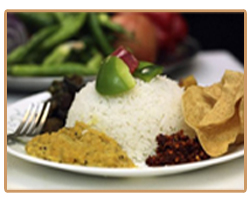 The unaccustomed may sometimes find the curries too hot but, this is easily controlled by reducing the quantities of spices used, specially chili and pepper, to suit the different tastes. Everything is brought to the table at once and there are no separate courses as in a Western style meal. It is perfectly correct to take a little of everything and taste it against the neutral rice. On special occasions yellow rice is cooked in coconut milk and delicately flavored

Pittu- probably came to Sri Lanka with the Malay regiments of the European colonial period. It is however completely naturalized now and is a staple of Sri Lankan cuisine. Pittu is a mixture of fresh rice meal, every lightly roasted and mixed with fresh grated coconut, then steamed in a bamboo mould. It has a soft crumbly texture and is eaten with fresh coconut 'milk' and a hot chilli relish or curry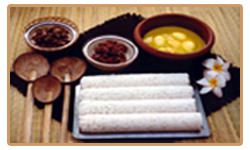 The most popular breakfast dishes in Sri Lanka are the hoppers (appa). These wafer thin, cup-shaped pancakes are made from a fermented batter of rice flour, coconut milk and a dash of palm toddy. A hopper, crisp on the outside, yet soft and spongy in the centre, is best eaten with curries and sambols while still streaming hot. There are many types of hoppers: plain hoppers, egg hoppers, milk hoppers, and sweeter varieties like vanduappa and paniappa.
Another popular breakfast dish is a rice preparation known as indi-appa or string hoppers. These are small spaghetti-like strings of rice-flour dough squeezed through a sieve onto small woven trays, which are steamed one atop the other. Light and lacy, string hoppers make a mouthwatering meal with curry and sambol